Details
The Luxe Bidet Neo 120 is a single nozzle, fresh water, non-electric mechanical bidet attachment.

Do-It-Yourself Installation
The bidet can be installed in 15-20 minutes. The only tools required are a screwdriver and wrench. Instructions and all accessories are included.
Download Neo120 Instructions



Adjustable to Fit Most Two-Piece Toilets
Adjustable fitting plates allow the bidet to be securely screwed into place between the toilet bowl and seat. The bidet will attach to most two-piece toilets (where the bowl and tank are separate) and some one-piece toilets.

Nozzle Guard Gate
The hygienic nozzle guard gate ensures the bidet is always ready for clean operation. The guard gate opens for access to the nozzle.

Retractable Nozzle Stays Clean
The nozzle only drops below the guard gate when the bidet is used. When the water is turned off, the nozzle automatically retracts for hygienic storage.

Convenient Nozzle Cleaning Feature
While the bidet is designed to keep the retractable nozzle clean, this model also has a cleaning feature to thoroughly rinse the nozzle.

Activate and Adjust Water Pressure Easily
The unobtrusive control panel features a chrome-plated knob that allows the user to activate and adjust water pressure. With clearly defined settings, the bidet can easily be operated by children and the elderly. A second knob switches from wash to nozzle cleaning.

Quality Construction and Components
Neo bidets feature high-pressure valves with a metal or ceramic core. These are the same valves used in quality faucets and showerheads. Braided steel hoses are included to connect the bidet to the water source. These fittings match standard U.S. plumbing sizes.

ASME Plumbing Standards
Neo bidets have passed the widely accepted ASME plumbing standards for manufacturing materials, durability and water pressure requirements. Neo bidets have passed sections dealing with durability (sections 3.4, 5.6, 5.7, 5.8), functionality (sections 2.6, 3.6, 4.1), material quality (4.9, 4.14, 5.1, 5.2 ), compatibility and design (4.2, 4.4, 6.0), and high pressure testing (section 3.2, 5.3, 5.5) of ASME A11218.1-2012/CSA and ASME A112.4.2-2009 as tested in IAPMO R&T lab.

Additional Details
Product comes with an 18 month manufacturer's warranty.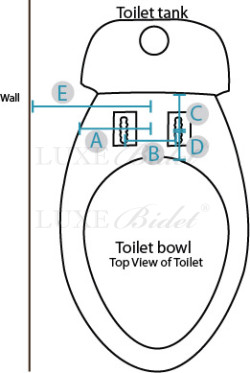 Toilet Dimensions
Center of toilet to the edge: maximum 7.75"
Distance between the two screws: between 3.5" to 8.25"
Distance from screw to toilet tank: minimum 1.0"
Distance from the screw to the edge of the toilet bowl: between 1.25" to 3.5"
Distance from the center of the toilet to the wall: minimum 11.5"