Details
Premium quality Luxe Bidets are a hygienic and comfortable alternative to rough toilet paper. Feel refreshingly clean with this eco-friendly solution. The MB110 is a popular model for private, public, and commercial buildings and offers great value at an affordable rate.
Quick & Simple Do-It-Yourself Installation
This bidet easily attaches to and detaches from any two-piece standard toilet bowl. An installation guide and all hose and connection accessories are included. Installation is easy to do yourself, takes 10 to 20 minutes, and requires only a screwdriver and wrench.
Download MB110 Instructions
Design and Operation Features
The MB110 bidet is non-electric and connects directly to your bathroom's fresh water supply with a plastic T-adapter and flexible plastic hose (included). Water pressure is controlled by a turn-knob on the user's right hand side. For sanitation, the spray nozzle retracts when not in use. Made with durable white plastic (ABS resin), the bidet is easy to clean.
Premium Quality and Excellent Value
This bidet is made of high-quality materials and comes with a 12 month warranty.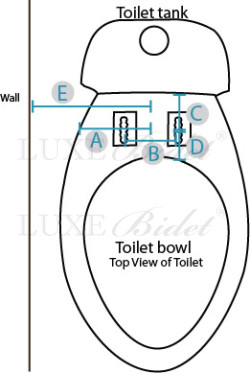 Toilet Dimensions
Center of toilet to the edge: maximum 7.5"
Distance between the two screws: between 5.5" to 7.5"
Distance from screw to toilet tank: minimum 1.0"
Distance from the screw to the edge of the toilet bowl: between 1.25" to 3.5"
Distance from the center of the toilet to the wall: minimum 12.0"